---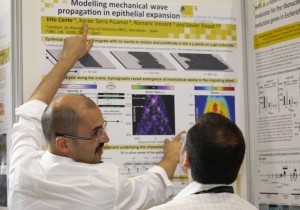 IBEC is a research centre whose purpose is to carry out interdisciplinary research at the highest international quality level which, by creating knowledge, helps to improve health and quality of life and generate wealth.
Beneficiaries of the Institute for Bioengineering of Catalonia include the universities, research centres, the scientific community, the business sector that drives research in the bioengineering field, and society in general.
Engineering solutions for health
Our mission
Our mission is achieved by carrying out the following five objectives:
1. Basic and interdisciplinary research in bioengineering and nanomedicine at the highest international level
2. Collaborations with international academia, hospitals and industry
3. Knowledge and technology transfer to the biomedical sector
4. Improving health and quality of life
5. Training the next generation of experts in healthcare technology
To achieve these objectives, the institute aims to work in everything from the most basic research in areas currently associated with nanotechnology applied to medicine, to the most technological applications aimed at diagnosis or robotic and minimally invasive surgery, among others.
Specifically, IBEC has the following specific tasks, among others:
To drive frontier research at the highest international level, through joint, cooperative organisation to carry on this activity, stimulating relations between its own researchers and those at other institutions throughout the world.
To foster multidisciplinary research, in order to build up sufficient critical mass devoted to research in the broad spectrum of science and technology that come together in bioengineering, to make possible sufficient transfer of knowledge and application between researchers and business sectors.
To drive teaching and transfer of knowledge, techniques and technology in disciplines involved in bioengineering, through an academic programme which allows fundamental aspects to be balanced with their technological applications.
To foster the raising of funds for research by accumulating own resources, subsidies, awards, assistance and donations given both by public institutions and by private individuals or organisations.
To establish cooperation between the foundation and healthcare institutions and industry with the aim of fostering competitiveness in this sector, encouraging innovation and training in emerging areas of bioengineering.
To reach out to local and international venture capital funds and companies in order to encourage the setting up and promotion of spin-off businesses by researchers and students at the institute.
To organise national and international scientific meetings, offering the scientific community specialist services and products.
To contribute through research to progress in technology and innovation and to enhancing the welfare of society and people in Catalonia.
All other tasks which help to foster bioengineering research and the achievement of the aims for which it was set up.
Our values
Based on IBEC's mission and vision, our values were identified and defined by the "From values to excellence" project, an action within the framework of the Human Resources Strategy for Researchers according to the European Charter and Code.
It was a participatory process in which several interdisciplinary working groups, made up of management, researchers of all levels and support staff, met between October and November 2016 to identify and define, based on their perception and experience, the values that make the institute unique.
These values help to guide the choices and decisions that our researchers make in their working life.

Collaboration
Collaboration in the sense of mutual and constant support. Collaboration entails feeling secure, backed and well-represented, and is present at all professional levels, regardless of hierarchy. It means being service-oriented both internally and externally, and predisposed to integrating knowledge and resources for the common good.
Creativity
Creativity is behind the initiatives and research proposals that lead IBEC to succeed and gain international recognition. Creativity stems from curiosity, and is the ability to move outside our comfort zones, valuing and integrating what already exists to transform it into something original that otherwise could not exist.
Creativity is also seen in the integration of different talents and resources to achieve innovative and high-impact results.
Respect
Respect is the basis of collaborative work, relying on acceptance and listening to  differences, and allowing both a prejudice-free focus and an approach that's open to various ideas, as well as building strong and enriching relationships.
Perseverance
Perseverance is the constant pursuit of realistic high performance, keeping the focus on individual and corporate motivation and continuous learning to make processes, results and resources sustainable over time.
It relies on understanding the demands of our positions, knowing how to value both internal and external resources, and turning efforts into a source of positive satisfaction.
(Scientific and social) Responsibility
Responsibility is commitment to the profession, and thus acting according to principles of good faith, integrity, honesty and transparent communication, seeking and maintaining an ethical code of clear behavior, and adhering to best practices in science. It is based on the individual assuming the consequences of decisions he or she makes, being aware of and responsible for them, and reporting them where necessary. It makes scientific freedom possible, and helps us stay reliable and relevant in the research world.
Interdisciplinarity
Our interdisciplinary working environment relies on

multi-talented, versatile individuals.

It also reflects the ability to contribute  from different perspectives, integrating knowledge at both group and individual level.
It is based on the ability to function in more areas than those mastered thanks to training and continuous development, helping to create an adaptable and flexible system which is capable of achieving excellent results even with limited resources.
Openness
Externally, openness means explaining, making things understood and establishing a trusting relationship with partners, employees and society, acting openly and accurately in the delivery and communication of both scientific and non-scientific results.
Internally, openness ensures the consistency and consequence of our own decisions, identifying a frame of reference that enables understanding.
Code of Conduct for Research Integrity
The IBEC Code of Conduct for Research Integrity (the Code) is one of the actions within the framework of the Human Resources Strategy for Researchers (HRS4R) according to the European Charter & Code.
The Code is a framework for good research practice, setting the criteria for proper research behavior and establishing an environment conducive to high-quality research, thus ensuring that research is conducted according to international ethical standards.
The Code complements IBEC policies and procedures such as those for health and safety, working conditions, intellectual property, and does not replace them. Its content is complementary to the laws in force.
Together with the promotion of the Code, IBEC wants to take a proactive role providing training to researchers in this respect throughout their careers and raising awareness on the subject, thus preventing future problems.
The Code sets out the ethical standards and standards of research conduct and sets out principles, recommendations and commitments. By making clear the conduct that is expected and considered effective, the Code contributes to an atmosphere of openness.
The most up-to-date version of the Code can be accessed here.
The Code applies to and should be known by all professionals linked to IBEC at all career stages, so please read it carefully.
IBEC's Commission for Research Integrity
---
The Commission for Research Integrity is a body with a double role: on the one hand it has an advisory role; on the other it makes decisions on misconduct cases. Its main responsibilities are:
To promote and safeguard good research practice at IBEC.
To promote awareness and training for researchers at all career stages.
To monitor compliance with the Code and update it regularly.
To deal with allegations of research misconduct.
Allegations of research misconduct may be communicated by any IBEC member through any means to any member of the Commission for Research Integrity or the Head of the Human Resources Unit. The specific procedure is detailed in the Code.
The members of the Commission are:
| | | |
| --- | --- | --- |
| Nuria Montserrat | Group leader | Pluripotency for organ regeneration |
| Raimon Jané | Group leader | Biomedical signal processing and interpretation |
| Silvia Muro | Group leader | Targeted therapeutics and nanodevices |
| Anna Mura | Senior researcher | Synthetic, Perceptive, Emotive and Cognitive Systems |
| Maria Alejandra Ortega | Postdoctoral researcher | Biosensors for bioengineering |
| Giulia Fornabaio | PhD student | Mechanics of development and disease |
| David Badia | Managing Director | |
| Teresa Sanchis | Head of Strategic Initiatives | |
| Josep Samitier | Director | |
Please do not hesitate to contact any member of the Commission for any matter regarding research integrity at IBEC.