Two undergraduate biomedical engineering students who are doing their practical work at IBEC have been selected to go to Montreal to compete in SNIFFEST, a new international competition promoting practical and original solutions for odour measurement.
The UB-IBEC team, third year students Alba Iruela and Suhyang Park, have built a system based on chemical sensors and a Raspberry Pi in Santiago Marco's Signal and Information Processing for Sensing Systems group at IBEC, which is also sponsoring half the cost of their trip. The system contains embedded intelligence algorithms which the students have programmed to analyze the signals from the sensors.
Alba and Suhyang will compete against ten international teams – some at master's or PhD level – at SNIFFEST, which is being held as part of 2017's International Symposium on Olfaction and Electronic Nose (ISOEN).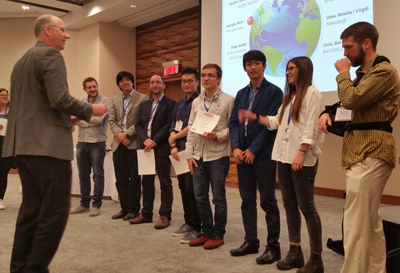 Alba Iruela and Suhyang Park (second and third from left) about to receive their certificate. The youngest team to take part, they were one of five that got through to the final round.
Their task is a cheese-lover's dream: for two days they will be using an odor delivery system they've designed themselves to classify samples of cheese at different levels of difficulty – from very dissimilar cheeses to very similar ones. Each team will be provided with a booth to set up their equipment, where they will be able to carry out live demos of their system before the competition. They will have also a flash presentation at the conference to explain their technical solution to the conference attendees. The top three teams will present their design on the third day of the conference.