---

IBEC's Nanotechnology Platform is an accessible and versatile research facility featuring 150m2 of class 10,000 cleanroom space and laboratories offering state-of-the-art equipment for the fabrication and characterization of micro- and nanodevices and structures.

IBEC's Nanotechnology Platform offers scientific and technological support that includes the design, development and analysis of devices, materials, and processes, so that academic researchers and companies alike may use the platform to develop their innovative ideas.
The platform is included in MINECO's updated ICTS (Infraestructuras Científicas y Técnicas Singulares) map as part of NANBIOSIS, an integrated platform for research-oriented medical applications. 
The platform is listed on BioCores@BCN, an online tool to help scientists and other customers find the local scientific service, technique or equipment they need for their biomedical or life sciences research. (CRG/Core for Life).
Our equipment and materials
Fabrication
---
Click on an item for more information.
Characterization
---
Click on an item for more information.
Materials
---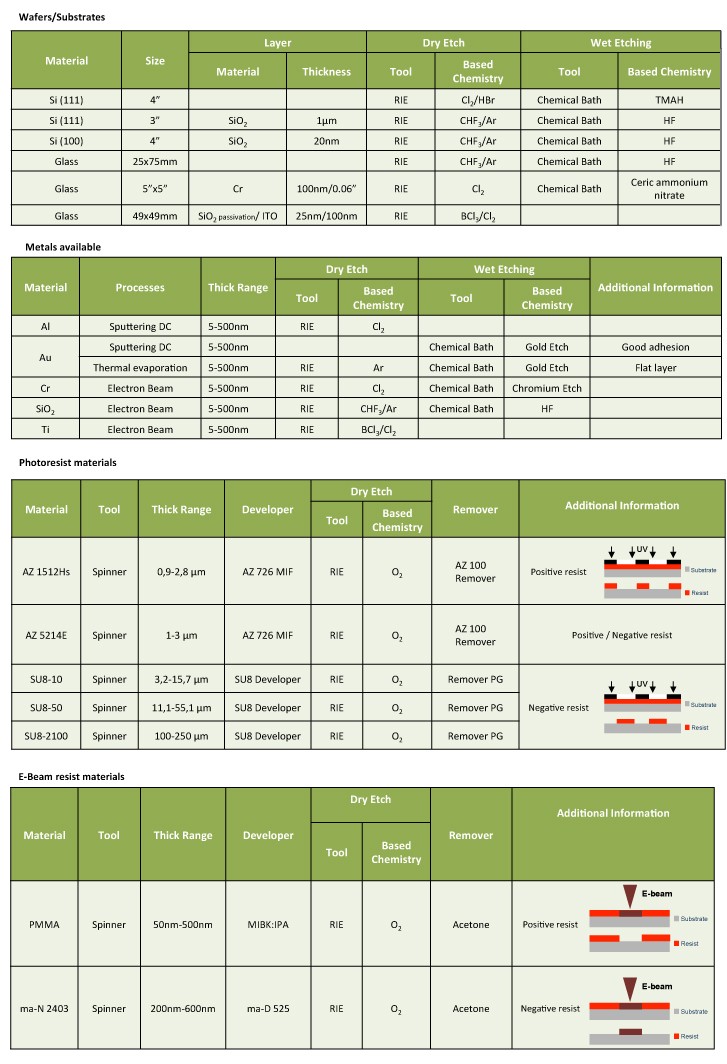 Services
Access to 10000 class cleanroom.
Training on and self-use of the following equipment: interferometer, profilometer, optical microscope, spin-coater, plasma cleaner and Mask Aligner.
Characterization
---
SEM morphological and topographical characterization of a diverse range of samples.
Surface topographic analysis by using optical interferometry and mechanical profilometry.
Fabrication
---
Design and development of micro- and nano-fabrication processes.
E-beam lithography technique, combined with other clean room fabrication techniques, for the manufacture of micro- and nano-structures.
Photolithography and Soft-lithography manufacture processes.
Thin layer deposition of metals (Au, Al, Ti, Cr, SiO2, etc.)
Cr Masks fabrication.
Price lists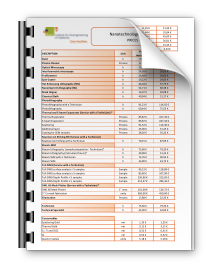 Prices (English)
Visits
If you would like to visit IBEC's Nanotechnology Platform, please fill out the corresponding application form with the information requested. Then send it to nanotechnology@ibecbarcelona.eu.
Your request will be reviewed, and we will contact you to confirm the day and time of your visit.
Visit request form (English)
How can I become a user?
To become a Nanotechnology Platform user, please follow the steps below.
2. Fill in the new user application forms:
a. Customer registration form: to be completed by the person who assumes the costs resulting from the provision of services carried out at the Nanotechnology Platform.
Customer registration form (English)b. User linked to a customer registration form: to be completed by the person that will directly use the Nanotechnology Platform services. This person must be linked to a customer that will assume the costs resulting from the services provided.
User linked to customer registration form (English)
Our external clients
Organisation / Group(s)
Infinitec Activos S.L.

PPG Ibérica S.A.

Advanced Nanotechnologies S.L.

Cosingo – Imagine Optic Spain S.L.
http://www.cosingo.com/

BCN Peptides, S.A.
GP Pharm, S.A.
Instituto de Investigación Sanitaria – Fundación Jimenez Diaz
Laboratorio de Nefrologia Experimental y Patología Vascular

Institut de Recerca Biomedica (IRB)
Programa de Química: Farmacología Molecular

Institut de Microelectronica de Barcelona (CNM)
Integración de Sistemas
Power Devices and Systems
Micro and Nanosystems

Fundació CTM Centre Tecnològic
Materials Technology Area

Centre de investigación en nanociencia i nanotecnologia (CIN-2)
Photovoltaics Lab
Institut Català de Nanociència i Nanotecnologia (ICN2)
Phononic and photonic nanostructures group
Supramolecular Nanochemistry & Materials
Institut de Ciència de Materials de Barcelona (ICMAB)
Molecular nanoscience and organic materials department (Nanomol group)
Institut de Biologia Molecular de Barcelona (IBMB-CSIC)
Cell Biology Department (Control of local mRNA expression group; Spatial control of cell cycle entry Group)
Institute of Environmental Assessment and Water Research (IDAEA-CSIC)

Universidad Politécnica de Madrid
Centro Láser

Universidad de Zaragoza
Fisica Aplicada
Universidad de Valladolid
GIRBioforge
Universidad Miguel Hernandez
Departamento Patologia y Cirugia

Institut Químic de Sarrià
Bioenginyeria d' Enginyeria de Materials

Parc Cientific de Barcelona
Lab. de Simulación Computacional y Modelización (CoSMo)
Fundació Institut de Recerca en Energia de Catalunya (IREC)
Materials Avançats per L'Energía
Universitat de Barcelona
Física Aplicada y Óptica (Grupo de Enerigía Solar; Física i Enginyeria de Materials Amorfs i Nanostructures)
Electrónica (MIND – Micro y Nanotecnologías y Nanoscopias para Dispositivos Electrónicos y Electrofotónicos)
Química-Fisica (laboratorio 4017)
Química Inorgánica (Grup de Magnetisme i Molècules Funcionals)
Ciencia del Materials i Enginyeria Metal·lúrgica
Ciencias Fisiológicas I
Física Fonamental (Nanomaterials Magnètics)
Estructura i Constituents de la Matèria
Cristal·lografia, Mineralogia i Dipòsits Minerals
Biologia Celular, Inmnologia y Neurociencias
Universitat Politecnica de Catalunya
CMEM – Ciència de Materials i Enginyeria Metal·lúrgica (BIBITE – Biomaterials, Biomecànica i Enginyeria de Teixits)
CREB – Centre de Recerca en Enginyeria Biomèdica
Enginyeria Electrònica
Users' publications
The Nanotechnology Platform requests that users acknowledge the service in publications. Acknowledgements not only help to demonstrate the contribution of our work to the scientific community, but also contribute to future efforts to secure funding for new investments in next-generation, state-of-the-art equipment.
We also encourage personal acknowledgement if any of our technicians have made a significant contribution (e.g. design of a micro-/nanofabrication process) to your work.
For every publication accepted by a journal that properly refers to the use of IBEC's Nanotechnology Platform, authors will receive a free hour of instrument use (excluding consumables). Simply inform us about your publication to receive your free time. In addition, we'll also display your publication on our web page.
Maria Antònia Arbós, Maria Teresa Quiles, Pere Huguet, Manel Armengol and Manuel López-Cano (2013). Biological Scaffolds: Molecular Surface Characterization and Host-Tissue Response. General Surgery Research Group, Vall d'Hebron Research Institute (VHIR), UAB, Barcelona, Spain
Rigat Brugarolas, L. G., Elizalde Torrent, A., Bernabeu, M., de Niz, M., Martin Jaular, L., Fernandez Becerra, C., Homs Corbera, A., Samitier, J. & del Portillo, H. A. (2014). Functional microengineered model of the human splenon-on-a-chip. Lab Chip, 14(10):1715-24
Ziqiu Tong, Oscar Seira, Cristina Casas, Diego Reginensi, Antoni Homs-Corbera, Josep Samitier and J. Antonio Del Rio (2014). Engineering a functional neuro-muscular junction model in a chip. RSC Adv.
Enquiries