---
About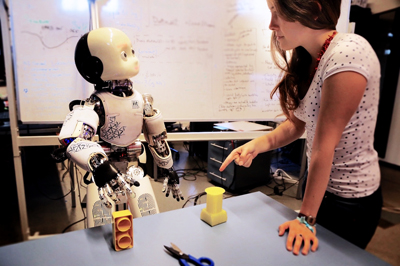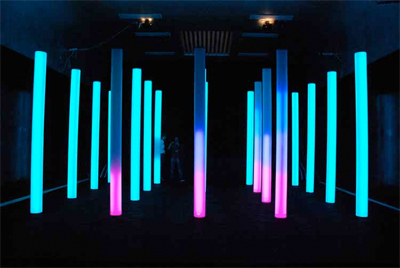 SPECS uses synthetic methods to study and synthesize the neuronal, psychological and behavioural principles underlying perception, emotion, and cognition.
SPECS activities are organized around three complementary dimensions:
• Theory of mind and brain
• Biomimetic real-world artefacts
• Brain repair and quality of life technologies
SPECS is also very much involved in the development of scientific co-operation in the field of Biomimetics and Neurotechnology, as well as in Educational and Outreach activities.
Cognitive Systems Laboratory
The Cognitive Systems Laboratory is a multidisciplinary environment that supports research in the following areas:
Distributed Adaptive Control
Multi-robot exploration and coordination
Classical conditioning, operant conditioning and learning models based on the Distributed Adaptive Control framework, which has become a standard in the field of artificial intelligence and behavior-based robotics (McFarland and Bosser, 1993; Hendriks-Jansen, 1996; Arkin, 1998; Pfeifer and Scheier, 1999; Clancey 1996; Cordeschi, 2002).
Robotic Systems Laboratory
The Robotic Systems Laboratory is a multidisciplinary environment that supports research in the following areas:
Classical conditioning, operant conditioning and learning models based on the Distributed Adaptive Control framework, which has become a standard in the field of artificial intelligence and behavior-based robotics
Multi-robot exploration and coordination
Navigation in human and animal behavior
Implementation in robots of brain models of the hippocampus, cerebellum, thalamus/cortex
Rule learning VR robots/avatars
Fast and reliable insect-based visual navigation models for flying vehicles
Investigation of the neuronal substrates of chemical sensing and their application to odor discrimination and localization
Hybrid Systems laboratory (HLB)
The HLB is primarily involved in the development, implementation, and analysis of machine-brain-machine interfaces.
The interdisciplinary nature of the study of hybrid systems lies at the intersection of different research areas, namely:
computational neuroscience
electronics
robotics
artificial intelligence
neuromorphic engineering
The HLB was involved in the ReNaChip FP7 project, whose overarching goal is to build s neuroprosthetic neuromorphic chip recovering a learning function lost in the aged cerebellum.
Digital Heritage
By using advanced digital humanities technologies, and making it accessible online, we can conserve, develop and preserve the memory of Europe's cultural heritage, and in particular the Holocaust, for future generations.
Existing memorial sites or museums offer a traditional historiographical approach. We propose to use virtual and augmented reality techniques to reconstruct sites of WW-II crimes and their interrelated structures. SPECS's approach combines virtual and augmented reality with integrated databases of graphical reconstructions and historical sources to allow us to actively explore and try to comprehend the incomprehensible: the massive scale of the crimes Nazi Germany perpetrated on the world and the depth of the destruction and suffering it caused.
The SPECS research group has been pioneering this approach over the last 15 years and grounded it in its fundamental research in psychology and neuroscience. In collaboration with the Bergen-Belsen memorial site and Prof. Habbo Knoch, this paradigm has been elaborated to conserve and present the history of the Bergen Belsen concentration camp.
Educational Robotics
Technology evolves and advances faster than ever in all aspects of our society. Thus, it is important that the next generations of students learn as much as possible about emerging technology and stay competitive.
SPECS contributes to the education of the next generations by combining platforms for training and outreach activities, facilitating multidisciplinary education and innovation by sharing the value of convergent science, excellence, and societal impact. We have developed Educational Robotics programs for students of the primary and secondary school, as well as courses to train teachers and young adults.
Interaction Technology
There is a growing interest in understanding creativity from a more neuroscientific point of view, so to say, to disclose the neural basis of creativity we will need great insights on how the brain elaborates the process of human thought.
Our approach to understanding the process of creativity is to use Art & Technology to create high impact, sophisticated man-machine interaction tools.
Narrative in interactive mixed reality environment
Multimedia installations: affect-based self-generated media content
Mixed-reality lab
The Mixed-reality lab serves a threefold research agenda:
Understand human behavior in a mixed-reality context
Build mixed-reality applications based on neurobiological understanding and methodologies see iqr and Brainx3
Test neurobiological models by deploying them in control of mixed-reality systems
Neuro-Rehabilitation
Over the past 15 years, SPECS has been developing science-based technology tools to drive perceptual, cognitive, affective and motor systems of the brain to facilitate functional recovery after damage. By means of novel interaction paradigms such as Virtual Reality or music therapy, and based on the Distributed Adaptive Control theory of mind and brain DAC developed by Paul Verschure, SPECS studies the brain and the mechanisms underlying loss of function and its rehabilitation and recovery after stroke, and other brain diseases (see Verschure Conf Proc IEEE Eng Med Biol Soc. 2011, Mónica S. Cameirão et al. Restor Neurol Neurosci 2011 and Stroke 2012 )
Psychophysiology lab
The Psychophysiology lab studies how humans react to various uni- and multisensory signals – visual, auditory and tactile stimuli. We assess human responses at different levels using subjective ratings, behavioral data, physiological and brain wave recordings. This data helps us to understand human perception and cognition mechanisms, with particular stress on the novel methods for diagnosis and treatment of various brain disorders (chronic pain, migraine, autism, depression, Alzheimer's disease).
affective chronometry (such parameters as the rise time to peak and the recovery time of the emotional waveform)
multisensory perception (sound, vision, touch)
multisensory interactions for emotional stimuli (custom sound and video databases are created)
sonification of EEG signals
neurofeedback using mixed reality environments processing of eye-gaze in autistic children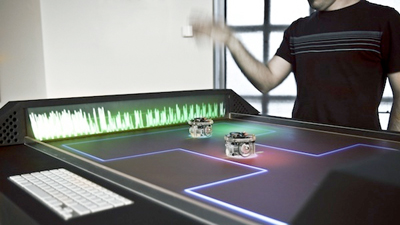 Staff
News/Jobs
28/12/17
Last Saturday, another "Classico" saw Messi and Ronaldo display their other-worldly skills and ball control. At the heart of their performance stands the amazing ability to control their bodies in anticipation of the movements of their team members, opponents – and especially the football.
---
05/09/17
IBEC welcomed Prof. Edvard Moser, Nobel Prize in Medicine or Physiology 2014, as the keynote speaker in a special event to mark the move of ICREA professor and ERC grantee Prof. Paul Verschure to the institute.
---
03/07/17
The Institute for Bioengineering of Catalonia (IBEC) gains a world-renowned neuroscientist and psychologist with the move this week of ICREA professor Paul Verschure and his Synthetic Perceptive, Emotive and Cognitive Systems group (SPECS) from the Universitat Pompeu Fabra to the institute.
---
Projects
EU-funded projects
| | | |
| --- | --- | --- |
| CDAC  The role of consciousness in adaptive behavior: A combined empirical, computational and robot-based approach (2014-2019) | ERC Advanced Grant | Paul Verschure |
| iC-ACCESS  Accessing Campscapes: Inclusive Strategies for Using European Conflicted Heritage (2016-2019) | HERA Joint Research Programme Uses of the Past, REFLECTIVE-1-2014 | Paul Verschure |
| socSMCs  Socialising Sensori-Motor Contingencies (2015-2018) | Future Emerging Technologies (FET), H2020 | Paul Verschure |
| WYSIWYD  What You Say Is What You Did (2014-2017) | FP7-ICT-2013-10, grant agreement n° 612139 | Paul Verschure |
| EASEL  Expressive Agents for Symbiotic Education and Learning (2013-2017) | FP7-ICT-2013-10, grant agreement n° 611971 | Paul Verschure |
| CSNII  Convergent Science Network of Biomimetics and Neurotechnology (2013-2016) | FP7-ICT-601167 | Paul Verschure |
National projects
| | | |
| --- | --- | --- |
| DAC-CHM Distributed Adaptive Control of Consciousness in Humans and Machines | | Paul Verschure |
| INSOCO (2015-2018) | | Paul Verschure |
| SANaR Smart Autonomous Neuro-Rehabilitation System | MINECO, Retos Investigación 2013 | Paul Verschure |
| TECNIO (2016-2019) | Generalitat of Catalonia | Paul Verschure |
Publications
Moulin-Frier, C., Fischer, T., Petit, M., Pointeau, G., Puigbo, J., Pattacini, U., Low, S. C., Camilleri, D., Nguyen, P., Hoffmann, M., Chang, H. J., Zambelli, M., Mealier, A., Damianou, A., Metta, G., Prescott, T. J., Demiris, Y., Dominey, P. F., Verschure, P. F. M. J., (2018). DAC-h3: A proactive robot cognitive architecture to acquire and express knowledge about the world and the self IEEE Transactions on Cognitive and Developmental Systems in press
Puigbò, J. Y., Maffei, G., Herreros, I., Ceresa, M., González Ballester, M. A., Verschure, P. F. M. J., (2018). Cholinergic behavior state-dependent mechanisms of neocortical gain control: A neurocomputational study Molecular Neurobiology 55, (1), 249-257
Pacheco, D., Verschure, P. F. M. J., (2018). Long-term spatial clustering in free recall Memory Article in press
Arsiwalla, Xerxes D., Verschure, Paul, (2018). Measuring the complexity of consciousness Frontiers in Neuroscience 12, (424), Article 424
Maffei, Giovanni, Herreros, Ivan, Sanchez-Fibla, Marti, Friston, Karl J., Verschure, Paul F. M. J., (2017). The perceptual shaping of anticipatory actions Proceedings of the Royal Society B 284, (1869)
Pacheco, D., Sánchez-Fibla, M., Duff, A., Verschure, P. F. M. J., (2017). A spatial-context effect in recognition memory Frontiers in Behavioral Neuroscience 11, Article 143
Hindriks, Rikkert, Schmiedt, Joscha, Arsiwalla, Xerxes D., Peter, Alina, Verschure, Paul F. M. J., Fries, Pascal, Schmid, Michael C., Deco, Gustavo, (2017). Linear distributed source modeling of local field potentials recorded with intra-cortical electrode arrays PLoS ONE 12, (12), e0187490
Ballester, Rubio Belén, Nirme, Jens, Camacho, Irene, Duarte, Esther, Rodríguez, Susana, Cuxart, Ampar, Duff, Armin, Verschure, F. M. J. Paul, (2017). Domiciliary VR-based therapy for functional recovery and cortical reorganization: Randomized controlled trial in participants at the chronic stage post stroke JMIR Serious Games 5, (3), e15
Santos-Pata, D., Zucca, R., Low, S. C., Verschure, P. F. M. J., (2017). Size matters: How scaling affects the interaction between grid and border cells Frontiers in Computational Neuroscience 11, Article 65
Moulin-Frier, C., Puigbò, J.-Y., Arsiwalla, Xerxes D., Martì Sanchez-Fibla, M., Verschure, Paul F. M. J., (2017). Embodied artificial intelligence through distributed adaptive control: An integrated framework
7th Joint IEEE International Conference on Development and Learning and on Epigenetic Robotics (ICDL-Epirob 2017) , IEEE (Lisbon, Portugal) , 1-8
Puigbò, Jordi-Ysard, Gonzalez-Ballester, Miguel Ángel, Verschure, Paul F. M. J., (2017). Behavior-state dependent modulation of perception based on a model of conditioning
Biomimetic and Biohybrid Systems: Living Machines 2017 (Lecture Notes in Computer Science) (ed. Mangan, M., Cutkosky, M., Mura, A., Verschure, P., Prescott, T., Lepora, N.), Springer, Cham 10384, 387-393
(See full publication list in
ORCID
)
Equipment
EXperience Induction Machine (XIM), an immersive room equipped with a number of sensors and effectors that have been constructed to conduct experiments in mixed-reality.
Robotics lab
Codi-Bot, the musical robot that teaches you how to program
iqr: simulator for large-scale neural systems
Collective machine cognition: Autonomous dynamic mapping and planning using a hybrid team of aerial and ground-based robots
Humanoid robots: iCub
Quality of Life Technologies
Collaborations
In 2014, SPECS created the spin-off company "Eodyne".