This month IBEC is taking part in the Barcelona International Youth Science Challenge (BIYSC 2016), a new initiative that aims to stimulate scientific talent among young people from all over the world.
IBEC's researchers are contributing via the institute's BIYSC project, "Instructive Biomaterials for Regenerative Medicine", coordinated by Biomaterials for Regenerative Therapies group senior researcher Soledad Pérez. The project aims to help the students understand the basis of regenerative medicine and to find out about developing of target-specific biomaterial scaffolding systems. IBEC's project is one of ten being offered by research centres in the area within the framework of BIYSC, including IRB, CRG, ICFO, the UB, and ICIQ, and one of four that was fully subscribed.
A hundred undergraduate students aged between 16 and 19 are participating in this first edition of BIYSC, which is organised by the Catalunya-La Pedrera Foundation. As well as the lectures from leading scientists, BIYSC's calendar of events offer debates and discussions with the directors of international research centres, including IBEC's director, Josep Samitier; visits to those centres; the chance to work in on the project in a lab; and many social activities. Yesterday Biomaterials for Regenerative Therapies group leader Elisabeth Engel gave a talk, "Biomaterials, beyond a simple template" at Mon San Benet as part of the lectures schedule of BIYSC, and nine students are coming to IBEC on Friday 15th July to start the hands-on part of the project.
BIYSC is taking place from July 11th to 22nd.
—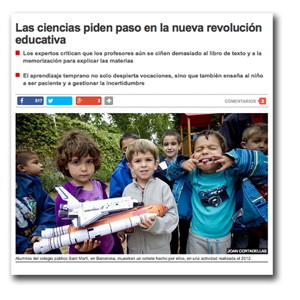 IBEC in the Media:
BIYSC – and IBEC's involvement – was mentioned in an article in El Periódico earlier in the year that discussed the importance of early and hands-on learning to encourage scientific vocation, and saying that experts advise less reliance on textbooks and memorization in the teaching of scientific subjects.