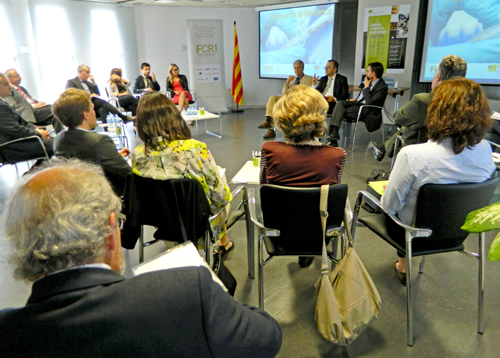 There's nothing like sitting down with a relaxing café con leche while you're networking. And that's exactly what IBEC representatives did this afternoon when, together with the IRB, they took part in the inaugural event of the Catalan Foundation for Research and Innovation (FCRI)'s 'Café amb la Recerca' initiative, which was held at IBEC.
Josep Samitier, director of IBEC, and Joan Guinovart, director of the Institute for Research in Biomedicine (IRB Barcelona), presented their research at the pilot episode of the scheme, which aims to provide a friendly meeting point for research organizations, businesses and investors to get together and identify ways to collaborate. The presentations led to lively and informative discussions about what industry and research can offer each other and what they need to work together. The business people in attendance came from companies such as AXA, Reig-Jofre, Nature Bisse, Semillas Fitó, Damm, Lipotec, Lucta and AB Médica Grup, among others.
"This is the first of a planned series of Café amb la Recerca events in which we plan to introduce industry to many of the other CERCA research centres in Catalonia," said Enric Claverol, CEO of FCRI, a a private company with public support which acts as a go-between for the public and academic and private and business sectors.
{flike image=http://ibecbarcelona.eu/images/stories/news/dscn8989_.jpg}