---
About
The main goal of our group is to use Super Resolution Microscopy (nanoscopy) to visualize and track in living cells and tissues self-assembled nanomaterials with therapeutic potential (nanomedicine).
The understanding of materials-cell interactions is the key towards the development of novel nanotechnology-based therapies for treatment of cancer and infectious diseases.
Our group aims to use a multidisciplinary approach, at the interface of chemistry, physics and biology, to develop novel nanomaterials for the treatment of cancer and infectious diseases.
We aim at the development of novel nanocarriers for drug delivery based on self-assembly, i.e. able to build themselves. Molecular self-organization is ubiquitous in the biological world and represents for us a source of inspiration for the design of nanostructures with biomedical potential. In particular we focus on the development of self-assembled nanoparticles and nanofibers able to selectively target diseased cells and deliver locally therapeutic moieties such as drugs and genetic material (e.g. DNA, siRNA, mRNA).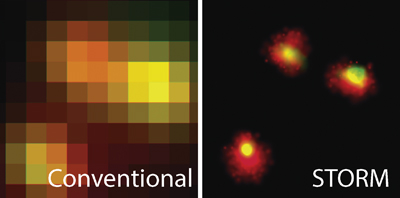 Right: Nanoparticles interactions with blood components imaged with conventional optical microscopy (left) and super resolution STORM microscopy (right).
A key point towards the development of novel nanotechnology-based therapies is the understanding of the behavior of nanomaterials in the complex biological environment. Here we use super resolution microscopy to track nanomaterials during their voyage in the biological environment and to visualize the interactions with blood components, immune system and target cells. We make use of a variety of super resolution techniques based on single molecule detection such a stochastic optical reconstruction microscopy (STORM), photoactivated localization microscopy (PALM), point accumulation for imaging in nanoscale topography (PAINT), and single particle tracking (SPT). These methods allow to achieve a resolution down to few nanometers and are therefore ideal to visualize nanosized synthetic objects in the biological environment. Super resolution microscopy provides a molecular picture of structure-activity relations and represent a guide towards the design of innovative materials for nanomedicine.
Staff
News/Jobs
20/09/2018
Eight IBECers were in the Netherlands on 13th and 14th September for the first ever IBEC-ICMS Symposium, 'NanoSens&Med'.
---
23/05/2018
Two IBEC groups have clubbed together to combine their expertise and reveal new knowledge that could advance the design of micro- and nanomotors for applications in health.
---
11/05/2018
Three of IBEC's women researchers have been successful in BIST's recent 'To the Mothers of Science' call.
---
20/03/2018
The Nanoscopy for Nanomedicine group has studied Single-Chain Polymeric Nanoparticles (SCPNs) mimicking enzymes as possible drug activators in biological environments, like the living cell.
---
30/11/2017
An article by BIOCAT profiles the three winners in Catalonia of the last round of ERC Starting Grants, including IBEC's Lorenzo Albertazzi.
---
06/10/2017
A paper published in Small last month by Lorenzo Albertazzi's group is featured in Advanced Science News, Wiley publishing company's in-house news website. This platform presents advances in various fields of research for a general audience.
---
07/09/2017
The Nanoscopy for Nanomedicine junior group leader was successful in the European Research Council's 2017 call for Starting Grants, of which just 17 out of the total of 406 have been awarded to scientists working in Spain.
---
05/07/2017
IBEC junior group leader Lorenzo Albertazzi is a contributor to the 2017 edition of ChemComm Emerging Investigators, which is published annually by the UK's Royal Society of Chemistry.
---
20/04/2016
The AXA Research Fund, the international scientific philanthropy initiative of global insurer AXA, officially announced last week that it will devote €15.6m in 2016 to 44 new research projects with leading academic institutions in 16 countries.
---
11/02/2016
New IBEC junior group leader Lorenzo Albertazzi and his former colleagues at the Eindhoven University of Technology, working together with industry partner Novartis, have made a leap in drug delivery vectors by developing a new type of carrier with some groundbreaking improvements.
---
01/02/2016
Lorenzo Albertazzi's research project funded by AXA, Novel approaches for Pandemic Virus Targeting Using Adaptive Polymers, is featured on the Granted Projects section of their website.
---
06/10/2015
New IBEC junior group leader Lorenzo Albertazzi is profiled in El Mundo's "Personajes Únicos" section this week.
---
08/09/2015
Dr Lorenzo Albertazzi, a nanoscientist whose research focuses on creating smart self-assembling materials for therapeutic applications, is joining IBEC this September.
---
Projects
International grants
| | | |
| --- | --- | --- |
| NANOSTORM Design of Nanomaterials for Targeted Therapies Guided by Super Resolution Imaging (2018-2023) | ERC, European Commission | Lorenzo Albertazzi |
| THERACAT BIO-orthogonal catalysis for cancer therapy (2018-2022) | MARIE CURIE, European Commission | Lorenzo Albertazzi |
National grants
NANOVAX Nanovacunas diseñadas para inmunoterapia antitumoral (2016-2019)
Acciones de Programación Conjunta Internacional, MINECO
Lorenzo Albertazzi/Josep Samitier
Collaborative Research Projects AOM-BIST
BIST
Lorenzo Albertazzi
Understanding and measuring mechanical tumor properties to improve cancer  diagnosis, treatment, and survival: Application to liquid biopsies
(2017-2020)
Obra Social La Caixa
Lorenzo Albertazzi
Old projects
| | | |
| --- | --- | --- |
| Novel approaches for Pandemic Virus Targeting Using Adaptive Polymers (2015-2017) | AXA Research Fund | Lorenzo Albertazzi |
| TARGETSTORM Nanomateriales para terapias dirigidas contra el cáncer visualizados con microscopia de súper resolución STORM (2016-2019) | Retos investigación: Proyectos I+D, MINECO | Silvia Pujals |
| SGR Grups de recerca consolidats (2017-2019) | SGR, AGAUR | Silvia Pujals |
Publications
(See full publication list in ORCID)

Baranov, M. V., Olea, R. A., van den Bogaart, G., (2019). Chasing uptake: Super-resolution microscopy in endocytosis and phagocytosis Trends in Cell Biology 29, (9), 727-739

Cozzolino, M., Delcanale, P., Montali, C., Tognolini, M., Giorgio, C., Corrado, M., Cavanna, L., Bianchini, P., Diaspro, A., Abbruzzetti, S., Viappiani, C., (2019). Enhanced photosensitizing properties of protein bound curcumin Life Sciences 233, 116710

Post, R. A. J., van der Zwaag, D., Bet, G., Wijnands, S. P. W., Albertazzi, L., Meijer, E. W., van der Hofstad, R. W., (2019). A stochastic view on surface inhomogeneity of nanoparticles Nature Communications 10, (1), 1663

Feiner-Gracia, N., Olea, R. A., Fitzner, R., El Boujnouni, N., Van Asbeck, A. H., Brock, R., Albertazzi, L., (2019). Super-resolution imaging of structure, molecular composition, and stability of single oligonucleotide polyplexes Nano Letters 19, (5), 2784-2792

Pujals, S., Feiner-Gracia, N., Delcanale, P., Voets, I., Albertazzi, L., (2019). Super-resolution microscopy as a powerful tool to study complex synthetic materials Nature Reviews Chemistry 3, (2), 68-84

Pujals, S., Albertazzi, L., (2019). Super-resolution microscopy for nanomedicine research ACS Nano 13, (9), 9707-9712

Kolpe, A., Arista-Romero, M., Schepens, B., Pujals, S., Saelens, X., Albertazzi, L., (2019). Super-resolution microscopy reveals significant impact of M2e-specific monoclonal antibodies on influenza A virus filament formation at the host cell surface Scientific Reports 9, (1), 4450

Riera, R., Feiner-Gracia, N., Fornaguera, C., Cascante, A., Borrós, S., Albertazzi, L., (2019). Tracking the DNA complexation state of pBAE polyplexes in cells with super resolution microscopy Nanoscale 11, (38), 17869-17877

Uroz, Marina, Garcia-Puig, Anna, Tekeli, Isil, Elosegui-Artola, Alberto, Abenza, Juan F., Marín-Llauradó, Ariadna, Pujals, Silvia, Conte, Vito, Albertazzi, Lorenzo, Roca-Cusachs, Pere, Raya, Ángel, Trepat, Xavier, (2019). Traction forces at the cytokinetic ring regulate cell division and polyploidy in the migrating zebrafish epicardium Nature Materials 18, 1015-1023

Liu, Yiliu, Pujals, Sílvia, Stals, Patrick J. M., Paulöhrl, Thomas, Presolski, Stanislav I., Meijer, E. W., Albertazzi, Lorenzo, Palmans, Anja R. A., (2018). Catalytically active single-chain polymeric nanoparticles: Exploring their functions in complex biological media Journal of the American Chemical Society 140, (9), 3423-3433

Patiño, Tania, Feiner-Gracia, Natalia, Arqué, Xavier, Miguel-López, Albert, Jannasch, Anita, Stumpp, Tom, Schäffer, Erik, Albertazzi, Lorenzo, Sánchez, Samuel, (2018). Influence of enzyme quantity and distribution on the self-propulsion of non-Janus urease-powered micromotors Journal of the American Chemical Society 140, (25), 7896-7903

Delcanale, Pietro, Miret-Ontiveros, Bernat, Arista-Romero, Maria, Pujals, Silvia, Albertazzi, Lorenzo, (2018). Nanoscale mapping functional sites on nanoparticles by Points Accumulation for Imaging in Nanoscale Topography (PAINT) ACS Nano 12, (8), 7629-7637

Ardizzone, Antonio, Kurhuzenkau, Siarhei, Illa-Tuset, Sílvia, Faraudo, Jordi, Bondar, Mykhailo, Hagan, David, Van Stryland, Eric W., Painelli, Anna, Sissa, Cristina, Feiner, Natalia, Albertazzi, Lorenzo, Veciana, Jaume, Ventosa, Nora, (2018). Nanostructuring lipophilic dyes in water using stable vesicles, quatsomes, as scaffolds and their use as probes for bioimaging Small 14, (16), 1703851

Casellas, Nicolas M., Pujals, Sílvia, Bochicchio, Davide, Pavan, Giovanni M., Torres, Tomás, Albertazzi, Lorenzo, García-Iglesias, Miguel, (2018). From isodesmic to highly cooperative: Reverting the supramolecular polymerization mechanism in water by fine monomer design Chemical Communications 54, (33), 4112-4115

Krivitsky, Adva, Polyak, Dina, Scomparin, Anna, Eliyahu, Shay, Ofek, Paula, Tiram, Galia, Kalinski, Hagar, Avkin-Nachum, Sharon, Feiner Gracia, N., Albertazzi, Lorenzo, Satchi-Fainaro, Ronit, (2018). Amphiphilic poly(α)glutamate polymeric micelles for systemic administration of siRNA to tumors Nanomedicine: Nanotechnology, Biology, and Medicine 14, (2), 303-315

van Elsland, Daphne M., Pujals, Sílvia, Bakkum, Thomas, Bos, Erik, Oikonomeas-Koppasis, Nikolaos, Berlin, Ilana, Neefjes, Jacques, Meijer, Annemarie H., Koster, Abraham J., Albertazzi, Lorenzo, van Kasteren, Sander I., (2018). Ultrastructural imaging of salmonella-host interactions using super-resolution correlative light-electron microscopy of bioorthogonal pathogens ChemBioChem 19, (16), 1766-1770

Oria, Roger, Wiegand, Tina, Escribano, Jorge, Elosegui-Artola, Alberto, Uriarte, Juan Jose, Moreno-Pulido, Cristian, Platzman, Ilia, Delcanale, Pietro, Albertazzi, Lorenzo, Navajas, Daniel, Trepat, Xavier, García-Aznar, José Manuel, Cavalcanti-Adam, Elisabetta Ada, Roca-Cusachs, Pere, (2017). Force loading explains spatial sensing of ligands by cells Nature 552, 219-224

Duro-Castano, Aroa, Nebot, Vicent J., Niño-Pariente, Amaya, Armiñán, Ana, Arroyo-Crespo, Juan J., Paul, Alison, Feiner-Gracia, Natalia, Albertazzi, Lorenzo, Vicent, María J., (2017). Capturing "extraordinary" soft-assembled charge-like polypeptides as a strategy for nanocarrier design
Advanced Materials , 29, (39), 1702888

Labernadie, A., Kato, T., Brugués, A., Serra-Picamal, X., Derzsi, S., Arwert, E., Weston, A., González-Tarragó, V., Elosegui-Artola, A., Albertazzi, L., Alcaraz, J., Roca-Cusachs, P., Sahai, E., Trepat, X., (2017). A mechanically active heterotypic E-cadherin/N-cadherin adhesion enables fibroblasts to drive cancer cell invasion Nature Cell Biology 19, (3), 224-237

Feiner-Gracia, Natalia, Buzhor, Marina, Fuentes, Edgar, Pujals, S., Amir, Roey J., Albertazzi, Lorenzo, (2017). Micellar stability in biological media dictates internalization in living cells Journal of the American Chemical Society 139, (46), 16677-16687

Feiner-Gracia, Natalia, Beck, Michaela, Pujals, Sílvia, Tosi, Sébastien, Mandal, Tamoghna, Buske, Christian, Linden, Mika, Albertazzi, Lorenzo, (2017). Super-resolution microscopy unveils dynamic heterogeneities in nanoparticle protein corona Small 13, (41), 1701631

Van Onzen, A. H. A. M., Albertazzi, L., Schenning, A. P. H. J., Milroy, L. G., Brunsveld, L., (2017). Hydrophobicity determines the fate of self-assembled fluorescent nanoparticles in cells Chemical Communications 53, (10), 1626-1629

Pujals, S., Tao, K., Terradellas, A., Gazit, E., Albertazzi, L., (2017). Studying structure and dynamics of self-Assembled peptide nanostructures using fluorescence and super resolution microscopy Chemical Communications 53, (53), 7294-7297

Caballero, David, Blackburn, Sophie M., de Pablo, Mar, Samitier, Josep, Albertazzi, Lorenzo, (2017). Tumour-vessel-on-a-chip models for drug delivery Lab on a Chip 17, 3760-3771

Bakker, Maarten H., Lee, Cameron C., Meijer, E. W., Dankers, Patricia Y. W., Albertazzi, Lorenzo, (2016). Multicomponent supramolecular polymers as a modular platform for intracellular delivery ACS Nano 10, (2), 1845-1852

Beun, L. H., Albertazzi, L., Van Der Zwaag, D., De Vries, R., Cohen Stuart, M. A., (2016). Unidirectional living growth of self-assembled protein nanofibrils revealed by super-resolution microscopy ACS Nano 10, (5), 4973-4980

Garzoni, M., Baker, M. B., Leenders, C. M. A., Voets, I. K., Albertazzi, L., Palmans, A. R. A., Meijer, E. W., Pavan, G. M., (2016). Effect of H-bonding on order amplification in the growth of a supramolecular polymer in water Journal of the American Chemical Society 138, (42), 13985-13995

Aloi, Antonio, Vargas Jentzsch, Andreas, Vilanova, Neus, Albertazzi, Lorenzo, Meijer, E. W., Voets, Ilja K., (2016). Imaging nanostructures by single-molecule localization microscopy in organic solvents Journal of the American Chemical Society 138, (9), 2953-2956

da Silva, Ricardo M. P., van der Zwaag, Daan, Albertazzi, Lorenzo, Lee, Sungsoo S., Meijer, E. W., Stupp, Samuel I., (2016). Super-resolution microscopy reveals structural diversity in molecular exchange among peptide amphiphile nanofibres Nature Communications 7, 11561

De Koker, Stefaan, Cui, Jiwei, Vanparijs, Nane, Albertazzi, Lorenzo, Grooten, Johan, Caruso, Frank, De Geest, Bruno G., (2016). Engineering polymer hydrogel nanoparticles for lymph node-targeted delivery
Angewandte Chemie - International Edition , 55, (4), 1334-1339

Li, Hui, Fierens, Kaat, Zhang, Zhiyue, Vanparijs, Nane, Schuijs, Martijn J., Van Steendam, Katleen, Feiner Gracia, Natàlia, De Rycke, Riet, De Beer, Thomas, De Beuckelaer, Ans, De Koker, Stefaan, Deforce, Dieter, Albertazzi, Lorenzo, Grooten, Johan, Lambrecht, Bart N., De Geest, Bruno G., (2016). Spontaneous protein adsorption on graphene oxide nanosheets allowing efficient intracellular vaccine protein delivery ACS Applied Materials & Interfaces 8, (2), 1147-1155

van der Zwaag, Daan, Vanparijs, Nane, Wijnands, Sjors, De Rycke, Riet, De Geest, Bruno G., Albertazzi, Lorenzo, (2016). Super resolution imaging of nanoparticles cellular uptake and trafficking ACS Applied Materials & Interfaces 8, (10), 6391-6399

Beuwer, Michael A., Knopper, M. F., Albertazzi, Lorenzo, van der Zwaag, Daan, Ellenbroek, Wouter G., Meijer, E. W., Prins, Menno W. J., Zijlstra, Peter, (2016). Mechanical properties of single supramolecular polymers from correlative AFM and fluorescence microscopy Polymer Chemistry 7, (47), 7260-7268
Equipment
Nikon NSTORM Super Resolution Microscope
Super Resolution microscopy
Single particles tracking
TIRF fluorescence imaging
Collaborations
Roey Amir
Tel Aviv University, Israel
Mika Linden
Ulm University, Germany
Ilja Voets
Eindhoven University of Technology, The Netherlands
Giovanni Pavan
SUPSI, Switzerland
Bruno De Geest
University of Ghent, Belgium
Salvador Borros
IQS, Barcelona