Yesterday IBEC group leader Javer Ramon presented his research on developing organ-on-a-chip to study diabetes in IBEC's public event forming part of this year's Setmana de la Ciència.
About 70 visitors attended the talk in the PCB's Sala Dolors Aleu where, following a tour of some of IBEC's laboratory spaces and an introduction to IBEC by Coordinator of Events and Outreach Pilar Jiménez, Javier talked about his 3D biomimetic devices that will integrate technologies to detect glucose consumption and insulin production, as well as other biomarkers related to diabetes.
Javier's on-a-chip approaches will also be the focus of IBEC's first Giving Tuesday fundraising campaign on 28th November, when the public will be invited to support the development of a 'muscle-on-a-chip' as a model for a common form of muscular dystrophy.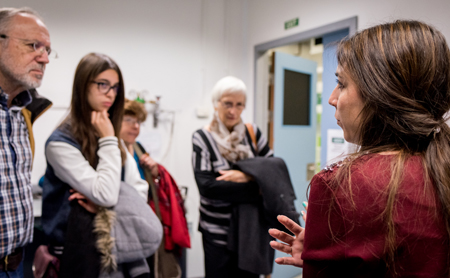 Setmana de la Ciència (Science Week), now in its 22nd year, is a national festival organised by the Fundació Catalana per a la Recerca i la Innovació (FCRI) which aims to bring research closer to the public with a variety of talks, open days, activities and events happening both in the research centres themselves and elsewhere.