In the beautiful surroundings of Academy House on Rambla dels Estudis last night, IBEC director Josep Planell was elected as Academician of the Royal Academy of Science and Arts of Barcelona (RACAB).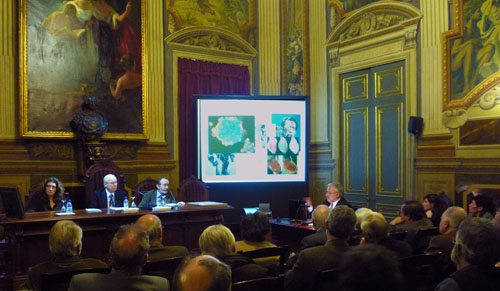 RACAB president Rafael Foguet i Ambrò presided over the ceremony, which began with Josep giving an introduction to his field of research and his work on the development of biodegradable scaffolds for bone regeneration. Then his sponsor for the election, Xavier Obradors i Berenguer, addressed the audience of members, peers, colleagues and friends with a biography of Josep, concluding that "this institution will benefit greatly from Dr. Planell's knowledge and entrepreneurship, as well as his characteristic benevolence and practical sense, and his affability towards everyone who knows him". The event ended with Josep's formal acceptance into the academy by the president, who presented him with a medal and a diploma.
Membership of RACAB, which was established in 1764 under the name 'Experimental Physio-mathematical Council', is limited by number and strictly by nomination.  Its members act as promoters and points of reference in the cultural arena and for Catalan society.