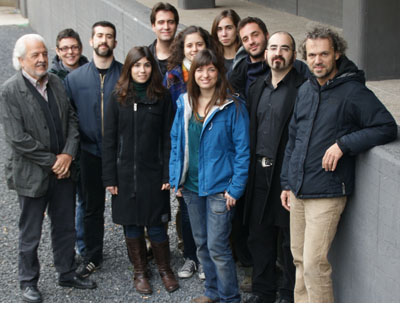 It has been announced that IBEC's Pau Gorostiza (left, with the Nanoprobes and Nanoswitches group) is one of the researchers selected to benefit from the European Research Council (ERC)'s top-up funding scheme 'Proof of Concept'.
Worth up to €150,000 each, these grants provide funding for researchers, who are already ERC grantees, to bridge the gap between their research and marketable innovation.
Pau is one of only four researchers from Spanish institutions (3 of them in Catalunya) to be awarded this grant, from the total of 60 awardees spanning all the European member states. With his ERC Starting Grant 2007, Pau developed an innovative approach to control the activity of drugs with light in cell culture systems. The PoC grant will allow him to go a step further by testing his new methods on important pharmacological target receptors and assay them in vivo.
—
Click here for a list of the selected Principal Investigators (second deadline, call 2012).
Click here for a full list of selected Principal Investigators (full call, 2012).
—
>>IBEC in the Media:
http://ibecbarcelona.eu/images/stories/press_cuttings/pauerc_ara_10feb2013.pdf
http://ibecbarcelona.eu/images/stories/press_cuttings/pauerc_lavanguardia_6feb2013.pdf
http://www.que.es/ultimas-noticias/sociedad/201302051422-investigadores-espanoles-recibiran-ayudas-150000-efe.html
http://www.salamanca24horas.com/local/81658-una-cientifica-logra-una-ayuda-europea-para-acercar-al-mercado-su-investigacion-contra-el-cancer
http://www.elcorreo.com/innova/investigacion/20130205/laboratorio-mercado-201302051852-rc.html
http://www.teinteresa.es/espana/investigadores-espanoles-recibiran-ayudas-UE_0_860315435.html
http://ecodiario.eleconomista.es/interstitial/volver/acierto/salud/noticias/4578749/02/13/Dos-investigadores-espanoles-recibiran-ayudas-de-la-UE-de-150000-euros.html