Last week more than 50 people attended a special event organised by IBEC, "Advancing Gender Equality and Diversity in Science". The morning of talks and discussions aimed to raise awareness and reflect on how to balance gender equality, and particularly how institutions, as well as society in general, can address such issues via best practices or other strategies.
The proceedings began with a look at gender and aging stereotypes in society and specifically in science and advertising by marketing and communications consultant Montse Montllau, followed by an examination by CRG Group Leader Dr. Mara Dierssen of more science-based issues such as bias in publishing papers, raising funds and recruitment procedures.
Sociologist Dr. Jörg Müller from the Internet Interdisciplinary Institute (IN3) at Open University of Catalonia (UOC) looked at EU-level policy on gender, and HR Head Carol Marípresented IBEC's action plan to tackle gender and diversity issues at the institute for the period 2014-2016, highlighting the relevant role of an internal IBEC Committee. The event was closed by CERCA Director Dr. Lluís Rovira, who gave an overview of the organisations guidelines for best practices at the Catalan research centres and presented a video on how to combat unconscious bias in recruitment.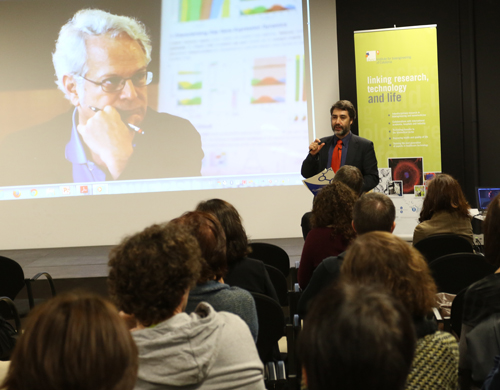 Afterwards there was some time devoted to questions and answers, which generated some interesting debates between the audience and the speakers, who had the opportunity to meet in person and network in an informal atmosphere.
"I'm very pleased that so many people attended our gender and diversity event, and especially that many were staff or scientists from outside IBEC," says David Badia, Managing Director of IBEC. "At IBEC we've tried to be sensitive about this bias, which is sometimes unconscious, and for the period 2014-2016 we've implemented our Equal Opportunities and Diversity Plan with different measures such as seminars, anti-harassment protocols, non-sexist language guides or incorporating gender guidelines in our recruitment procedures."